97.3 FM
Location
Brisbane
Format
Adult Contemporary
Launched
2001
Frequency
Current
97.3FM
Callsign
Current
4BFM
Owner
Australian Radio Network
Network
KIIS Network
Co-locate
4KQ
97.3 FM is an adult contemporary station in Brisbane and is a partnership between Australian Radio Network and Nova Entertainment. The station launched in 2001 and Brisbane's second FM-only commercial station; 21 years after FM 104 (now Triple M) launched.
97.3 FM is part of ARN's KIIS Network. The network was created in 2001. Australian Radio Network owned five capital city adult contemporary stations - Mix 106.5 in Sydney, Mix 101.1 in Melbourne, 97.3 FM, Mix 102.3 in Adelaide and Mix 106.3 in Canberra.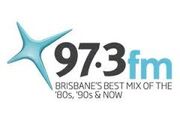 To reflect their format, it was named the MixFM Network.
In 2014, Sydney became a top 40 station and renamed KIIS 106.5. The following year, the Melbourne station did the same and became KIIS 101.1. Australian Radio Network also bought Perth's rock station, 96fm and added to the network. With the network broadening into other music formats, its name was changed to the KIIS Network.