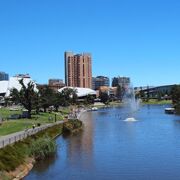 Commercial radio arrived in Adelaide in 1925 with the launch of 5AD (now Mix 102.3). They were followed by 5KA (now Triple M) in 1927 and 5DN (now Cruise 1323) in 1930. In 1976 - just four years before FM radio - Adelaide gained its fourth commercial AM station with the launch of 5AA.
FM radio arrived in 1980 with the launch of SAFM (now Hit 107). In 1990, 5KA converted and is now Triple M. 5DN also converted in 1990 but switched with 5AD; creating Cruise 1323 and Mix 102.3. After a gap of 24 years, Adelaide gained a new commercial FM station when Nova 91.9 launched in 2004.
Adelaide has four commercial FM stations - Hit 107, Triple M, Mix 102.3, Nova 91.9 - and two commercial AM stations - Cruise 1323 and 5AA.
AM stations
Edit
| Frequency | Callsign | Name | Format | Owner |
| --- | --- | --- | --- | --- |
| 729 | 5RN | ABC Radio National | News, Arts & Culture | Australian Broadcasting Corporation |
| 891 | 5AN | 891 ABC Adelaide | ABC Local Radio | Australian Broadcasting Corporation |
| 972 | 5PB | ABC NewsRadio | News & Current Affairs | Australian Broadcasting Corporation |
| 1323 | 5DN | Cruise 1323 | Classic Hits | Australian Radio Network |
| 1395 | 5AA | FIVEaa | News, Talk, Sport | Nova Entertainment |
| 1539 | 5TAB | Radio TAB | Racing | TattsGroup |
FM stations
Edit
| Frequency | Callsign | Name | Format | Owner |
| --- | --- | --- | --- | --- |
| 91.9 | 5ADL | Nova 91.9 | Top 40 | Nova Entertainment |
| 102.3 | 5ADD | Mix 102.3 | Adult Contemporary | Australian Radio Network |
| 103.9 | ABC FM | ABC Classic FM | Classical Music | Australian Broadcasting Corporation |
| 104.7 | 5MMM | Triple M | Rock | Southern Cross Austereo |
| 105.5 | 5JJJ | Triple J | Alternative Rock | Australian Broadcasting Corporation |
| 107.1 | 5SSA | Hit 107 | Top 40 | Southern Cross Austereo |
AM
FM
Australian Broadcasting Corporation
891 ABC Adelaide
ABC NewsRadio
ABC Radio National
ABC Classic FM
Triple J
Australian Radio Network
Cruise 1323
Mix 102.3
Nova Entertainment
FIVEaa
Nova 91.9
Southern Cross Austereo
Hit 107
Triple M
Latest Ratings
Edit
 %
13.6

◼

Mix 102.3
Adult Contemporary
Australian Radio Network
12.5
891 ABC Adelaide
ABC Local Radio
ABC
12.0

◼

Nova 91.9
Top 40
Nova Entertainment
11.1
FIVEaa
News, Talk, Sport
Nova Entertainment
9.1
Triple J
Alternative Rock
ABC
8.4

◼

Triple M
Rock
Southern Cross Austereo
8.3

◼

Cruise 1323
Classic Hits
Australian Radio Network
6.0

◼

Hit 107
Top 40
Southern Cross Austereo
Licence Area
Edit