Australian Radio Network owns two networks, a variety of stations and partnerships
Networks
KIIS Network

:

In all six mainland capitals, it is a mixture of music formats suited to the cities. In Sydney and Melbourne it is top 40 with KIIS 106.5 and KIIS 101.1. In Brisbane, Adelaide and Canberra it is adult contemporary with 97.3 FM, Mix 102.3 and Mix 106.3. Whilst in Perth it is rock with 96fm.
Pure Gold Network

:

In the four largest cities, it is split into two formats to compliment the KIIS Network. In Sydney and Melbourne, it is adult contemporary on WSFM and Gold 104.3 with top 40 on the KIIS stations. Whilst in Brisbane and Adelaide, it is classic hits on 4KQ and Cruise 1323 with adult contemporary on 97.3 FM and Mix 102.3.
Stations
Not in any network, Australian Radio Network also owns The Edge 96.1, a dance music station which is available in western Sydney.
Partnerships
Some of Australian Radio Network stations are partnerships with Southern Cross Austereo and Nova Entertainment. The two Canberra stations - 104.7 and Mix 106.3 - are a partnership with Southern Cross Austereo. Whilst Brisbane's 97.3 FM and Nova 93.7 in Perth are partnerships with Nova Entertainment.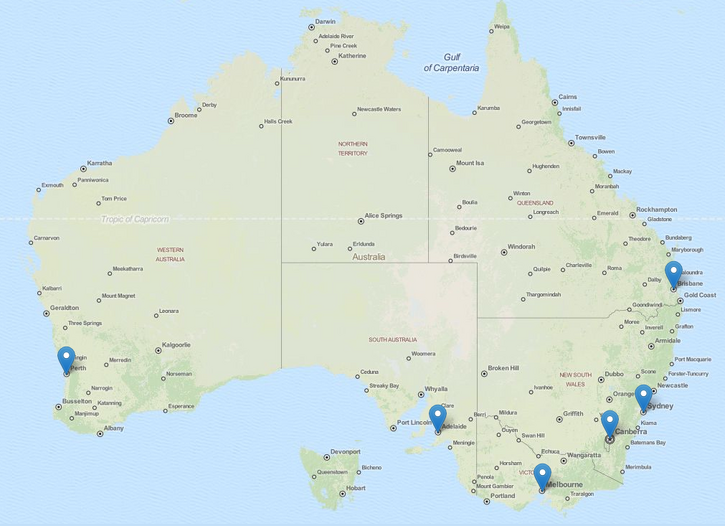 Location
Name
Format
Network
NSW
Sydney
KIIS 106.5
Top 40
KIIS
WSFM
Adult Contemporary
Pure Gold
Katoomba
The Edge 96.1
Dance
VIC
Melbourne
KIIS 101.1
Top 40
KIIS
Gold 104.3
Adult Contemporary
Pure Gold
QLD
Brisbane
97.3 FM NE
Adult Contemporary
KIIS
4KQ
Classic Hits
Pure Gold
SA
Adelaide
Mix 102.3
Adult Contemporary
KIIS
Cruise 1323
Classic Hits
Pure Gold
WA
Perth
96fm
Rock
KIIS
Nova 93.7 NE
Top 40
Nova
ACT
Canberra
104.7 SCA
Top 40
Hit Network
Mix 106.3 SCA
Adult Contemporary
KIIS
SCA partnership with Southern Cross Austereo
NE partnership with Nova Entertainment