Magic 882
Location
Brisbane
Format
Easy Listening
Launched
1931
Frequency
Current
882AM
Previous
1380AM (1931-1948)
1390AM (1948-1976)
880AM (1976-1978)
Callsign
Current
4BH
Owner
Macquarie Radio Network
Co-locate
4BC
Magic 882 is an easy listening station in Brisbane and is owned by Macquarie Radio Network. The station started its life as 4BH and was Brisbane's third commercial station launching in 1931.
4BH callsign is a abbreviation of Bald Hill where the station's transmitter was originally located. It was owned by the Macquarie Network from 1969 until 1988 when they sold their stations.
In 1995, 4BH was bought by Australian Radio Network who owned 4KQ. In 2001 ARN, along with DMG Radio (now Nova Entertainment), launched 97.3 FM. With the "2 station rule", ARN sold 4BH to their 97.3 FM partner.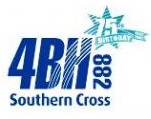 But DMG Radio only owned 4BH a year as the "2 station rule" came in affect again when they launched Sunshine Coast's Hot 91.1.
Southern Cross Broadcasting owned 4BH between 2003 and 2007 when SCB merged with Macquarie Media Group. Fairfax Media has been 4BH's owner since. The company was renamed as Macquarie Radio Network when the two networks merged in 2015.
In 2014, 4BH was rebranded as Magic 882 to mirror its sister station in Melbourne.