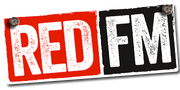 Redwave Media is the radio division of the Seven West Media group. The radio network serves major regional towns in Western Australia, north of Perth.
Redwave Media has two networks
Spirit Radio : An adult contemporary station. The Spirit Radio Network launched in 2000s, built around the existing AM stations 6NW Port Hedland and 6KA Karratha. Spirit Radio Network totals 5 stations and also available on FM in Geraldton and Broome, 621AM around Bunbury, and across remote Western Australia.
Red FM : A top 40 station. WAFM was formed in the late 1990s when supplementary FM licences were granted to existing licences, which are now Spirit Radio. Red FM was launched in 1998, initially as a mining radio station providing news and music to the remote mining areas. It has since replaced the WAFM stations in Geraldton, Karratha, Port Headland and Broome.