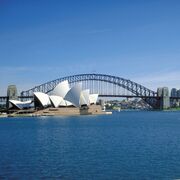 Commercial radio arrived in Sydney in 1925. In January, 2UW (now KIIS 106.5) was the first getting on-air 12 days ahead of 2UE. Then in October, 2KY (Sky Sports Radio) launched. By the end of 1926, Sydney had four commercial AM station with the addition of 2GB. They were followed by 2SM in 1931 and 2CH in 1932. Sydney's seventh and last commercial AM station was 2WS (now a FM station), launching in 1978.
Two years later in 1980, FM radio arrived. Two new stations launched on August 1st with Triple M and 2Day FM (Hit 104.1). In 1993, 2WS converted to FM with 2UW (KIIS 106.5) the following year. Additional commercial FM stations launched in 2001 with Nova 96.9 and in 2005 with smoothfm 95.3
Sydney has six commercial FM stations - Triple M, Hit 104.1 2Day FM, WSFM, KIIS 106.5, Nova 96.9, smoothfm 95.3 - and five commercial AM stations - 2UE, Sky Sports Radio, 2GB, 2SM and 2CH.
AM stations
Edit
| Frequency | Callsign | Name | Format | Owner |
| --- | --- | --- | --- | --- |
| 576 | 2RN | ABC Radio National | News, Arts & Culture | Australian Broadcasting Corporation |
| 630 | 2PB | ABC NewsRadio | News & Current Affairs | Australian Broadcasting Corporation |
| 702 | 2BL | 702 ABC Sydney | ABC Local Radio | Australian Broadcasting Corporation |
| 873 | 2GB | 2GB | News, Talk, Sport | Macquarie Radio Network |
| 954 | 2UE | 2UE | News, Talk, Sport | Macquarie Radio Network |
| 1017 | 2KY | Sky Sports Radio | Racing | TattsGroup |
| 1170 | 2CH | 2CH | Easy Listening | Macquarie Radio Network |
| 1269 | 2SM | 2SM | Talk, Easy Listening | Broadcast Operations Group |
FM stations
Edit
| Frequency | Callsign | Name | Format | Owner |
| --- | --- | --- | --- | --- |
| 92.9 | ABC FM | ABC Classic FM | Classical Music | Australian Broadcasting Corporation |
| 95.3 | 2PTV | smoothfm 95.3 | Easy Listening | Nova Entertainment |
| 96.9 | 2SYD | Nova 96.9 | Top 40 | Nova Entertainment |
| 101.7 | 2UUS | WSFM | Adult Contemporary | Australian Radio Network |
| 104.1 | 2DAY | Hit 104.1 2Day FM | Top 40 | Southern Cross Austereo |
| 104.9 | 2MMM | Triple M | Rock | Southern Cross Austereo |
| 105.7 | 2JJJ | Triple J | Alternative Rock | Australian Broadcasting Corporation |
| 106.5 | 2WFM | KIIS 106.5 | Top 40 | Australian Radio Network |
AM
FM
Australian Broadcasting Corporation
702 ABC Sydney
ABC NewsRadio
ABC Radio National
ABC Classic FM
Triple J
Australian Radio Network
KIIS 106.5
WSFM
Macquarie Radio Network
2GB
2UE
2CH
Nova Entertainment
Nova 96.9
smoothfm 95.3
Southern Cross Austereo
Hit 104.1 2Day FM
Triple M
Latest Ratings
Edit
 %
12.6
2GB
News, Talk, Sport
Macquarie Radio Network
8.9

◼

KIIS 106.5
Top 40
Australian Radio Network
8.2

◼

WSFM
Adult Contemporary
Australian Radio Network
8.0
702 ABC Sydney
ABC Local Radio
ABC
7.6

◼

Nova 96.9
Top 40
Nova Entertainment
7.4

◼

smoothfm 95.3
Easy Listening
Nova Entertainment
6.3
Triple J
Alternative Rock
ABC
5.8

◼

Triple M
Rock
Southern Cross Austereo
4.8
2UE
News, Talk, Sport
Macquarie Radio Network
3.3

◼

Hit 104.1 2Day FM
Top 40
Southern Cross Austereo
Licence Area
Edit